Download "Shun Hing Service" App to Enjoy Extra 1 Months Warranty Services
1 January 2023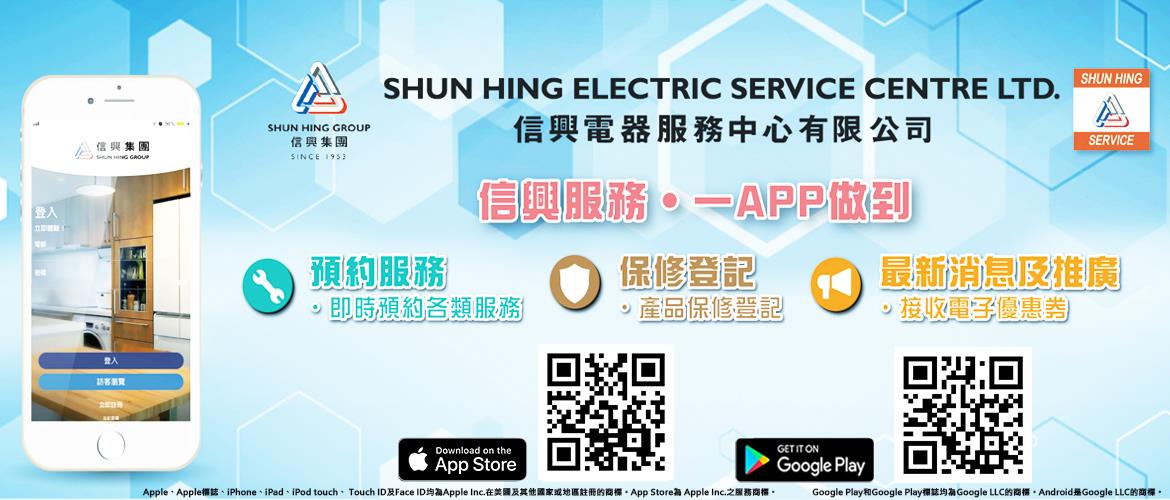 Download "Shun Hing Service" App to Enjoy Extra 1 Month Warranty Services
Shun Hing Electric Service Centre Limited has launched a new mobile app to fit the needs of various users by offering different kinds of service. With this new service platform, users can register warranty, make service appointments for Shun Hing agents' products, view e-manuals and cooking recipes, as well as manage the asset list and receive the latest news and promotions.
Extra free 1-month warranty period will be offered to every purchase from now until 31 Mar 2024 for designated Shun Hing agented products and complete the warranty registration through Shun Hing Service App on or before 10 Apr 2024.
Download now and enjoy our professional service and benefit!
* Apple, the Apple logo, iPhone, iPad, iPod touch, Touch ID and Face ID are trademarks of Apple Inc., registered in the US and other countries. App Store is a service mark of Apple Inc.
* Google Play and the Google Play logo are trademarks of Google LLC. Android is a trademark of Google LLC.